Call:
414-327-1555
Fax : 414-327-0577
Email: indelect@execpc.com
Catalog, Quote, Availability.
Distributors for
TYTON HELLERMANN CORP.

Grip Ties VELCRO* Fastners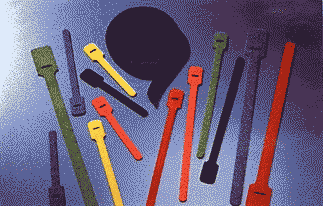 Manage and protect your cable and fiber with Tyton Hellermann Grip Ties.

The Grip Tie is a low profile, one piece fastening device. Constructed of VELCRO* Brand polyethylene hook and nylon loop, laminated back to back, the Grip Tie features quick release for repetitive access to cable and wire. The Grip Tie's design provides ease of installation in tight areas such as telecommunications closets. The tie will also not cause damage to CATEGORY 5 cable or fiber optic cable since it cannot be overcinched.

Available in a large color variety as well as different sizes, the Grip Tie is versatile enough for applications ranging from network installations to bundling power cords. Black is also available on a roll, allowing you to cut custom lengths for your specific application.

Installation Instructions

Grip Ties
Wrap Grip Tie around cable or wire bundle.
Insert end through slit and pull to tighten.
Wrap remaining length of Grip Tie around itself.
Grip Tie Roll
Unroll the desired length of Grip Tie and cut.
Wrap around wire bundle.
Secure remaining length around itself.
Since the Grip Tie is self gripping, it is fast and easy to install.
Part Numbers and Dimensions
Tyton Hellermann Part No.
Color
Max.
Bundle Dia.
L
Length
W
Width
A
Head Length
B
Head Width
Pkg. Qty*
GT.50X6_P2
GT.50X60C2
(See Color Chart)
Black
1.00"
1.00"
6"
6"
0.50"
0.50"
1.50"
1.50"
1.00"
1.00"
10
100
GT.50X8_P2
GT.50X80C2
(See Color Chart)
Black
1.75"
1.75"
8"
8"
0.50"
0.50"
1.50"
1.50"
1.00"
1.00"
10
100
GT.50X11_P2
GT.50X110C2
(See Color Chart)
Black
2.63"
2.63"
11"
11"
0.50"
0.50"
1.50"
1.50"
1.00"
1.00"
10
100
GT.75X15_P2
GT.75X150C2
(See Color Chart)
Black
3.88"
3.88"
15"
15"
0.75"
0.75"
2.50"
2.50"
1.50"
1.50"
10
100
GT.75X1800
Black

N/A
180"
(5 yds.)
0.75"
N/A
N/A
1 roll
Color Chart
Color
Part No.
Suffix
Black
0
Red
2
Orange
3
Yellow
4
Green
5
Blue
6
Also available from Tyton Hellermann
Products for the telecommunications industry including:
Cable Ties
CATEGORY 5 Patch Panels
Lightguide Fiber Optic Enclosure System
Surface Raceway
Surge Protection Products for Communications Lines
Modular Networking Frames
Identification Products
*VELCRO is a registered trademark for fasteners of the Velcro companies.



© 1997 Tyton Hellermann

---