Call:
414-327-1555
Fax : 414-327-0577
Email: indelect@execpc.com
Catalog, Quote, Availability.
Distributors for
TYTON HELLERMANN CORP.

Bundling and Securing Products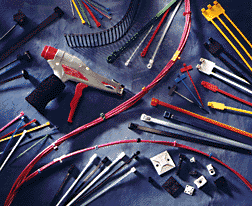 Through its wide selection of cable ties, tools, mounting bases, and clips, Tyton Hellermann can solve most any bundling and securing requirement.
CABLE TIES
For over 26 years, Tyton Hellermann has been manufacturing a large selection of U.L. Recognized, military specified cable ties. Available in a wide variety of materials, colors, styles, and sizes, Tyton Hellermann's cable ties are engineered and manufactured for maximum performance and quality.
Styles
Tyton Hellermann ties are available in many different styles including: standard, heavy duty, mounting, releasable, identification, and more. Specialty, in- stock ties include: button head, stud mount, extended length, aerial support, parallel entry (low profile), and clamp (rounded head) ties.
As the leading solution provider to a growing number of companies and industries, Tyton Hellermann is continuously adding to its cable tie line with standard and custom products. Contact us for samples or details to your fastening application, and let us help you efficiently meet your requirements.
Materials/Environmental Conditions
Tyton Hellermann has worked very closely with its material suppliers to develop resins that are specifically formulated for cable tie production.
Nylon 6/6 is used for general purpose applications. Cable ties are manufactured in many other materials to meet varying environmental conditions. Cable ties are available for outdoor, chemical resistant, flame retardant, high temperature and vibration applications.
Cable ties in halar material have a lower smoke density when burned and are NEC approved for use in plenum spaces. Tyton Hellermann's halar ties have a UL flame rating of 94V-0 and come in a standard color of red for easy identification.
Tyton Hellermann can help recommend the appropriate material for your cable tie application. Contact Tyton Hellermann for assistance and samples to determine the best material to meet the demands of the application.
Size Ranges
Tyton Hellermann manufactures standard cable ties from 4" to 52" in length. The El-Ty (extended length tie) can come on a continuous reel of 50 ft. A wide range of bundle diameters are accommodated.
Colors
From natural and black to fluorescent pink, Tyton Hellermann has many different colored cable ties available as standard or custom components. Used for color coding, easy identification, aesthetic reasons and more, Tyton Hellermann's color palette of cable ties helps meet both general purpose and special requirements.
CABLE TIE TOOLS
Available in mechanical, power assisted and automatic versions, Tyton Hellermann's tools set the highest standards for performance, ergonomic design and reliability.
Mechanical
Ranging from pocket sized twist tools to state of the art Mark 7 and Mark 9 tools, Tyton Hellermann offers mechanical tools which can be used with any Tyton Hellermann cable tie.
Ergonomically designed to reduce operator fatigue, the Mark 7 and Mark 9 tools feature reduced hand effort coupled with long service life.
Power Assisted
Tyton Hellermann's power assisted tools offer ease of use for higher application cable tie installations. Used with either pneumatic or electric power, ties can be installed with a minimum of hand effort.
The power assisted Mark 7 tool combines the weight and modular design of a mechanical tools with the performance of a high speed power tool. Helping to prevent repetitive motion injuries like carpal tunnel syndrome, the power assisted Mark 7 tool accomplishes rapid tension and cut-off with only one trigger depression.
Automatic
Tyton Hellermann's completely portable Auto Tool installs ties in less than one second, making it an invaluable labor-saving piece of equipment. The Auto Tool is lightweight and can be operated by a battery pack for complete mobility. The tool can also be used with a compact power source which runs from an electrical outlet. No pneumatic supply is required.
The Quick Tool is an automatic bench mount system ideally suited for very high volume cable tie applications. The Quick Tool can be operated with a foot pedal or modified for an automated environment.
MOUNTING BASES
Tyton Hellermann offers a wide variety of mounting bases suiting many applications. Mounting bases are used in conjunction with cable ties to stabilize and secure wiring bundles, both indoors and outdoors. Adhesive backed, push mount, screw-in mounting bases are just some of the mounts available from Tyton Hellermann.
Tyton Hellermann mounting bases can accommodate masonry, powder paint surfaces and more.
CLIPS
Nail, masonry and siding clips are ideal for securely holding wire and cable in place for both indoor and outdoor applications.
Nail clips feature a hardened nail for driving into wood, masonry joints, cinder block and mortar. The nail clips do not have sharp edges, which reduce the chance of cutting cable jackets or sheaths and causing signal loss. Standard colors are white and black. The black clips are UV stabilized.
Masonry clips are a low cost, easy method for mounting station wire and PBX cable to cinder block, masonry and other forms of concrete. Standard material is a high impact, flame retardant lexan, which is clear.
Siding clips are designed to hold D station, ground or coaxial drop cable to aluminum or steel siding.
Tyton Hellermann's line of bundling and securing products combine superior quality with many product choices to most suitably and economically fit each application. Contact us for a full color catalog, samples or application information.



© 1997 Tyton Hellermann

---