Call:
414-327-1555
Fax : 414-327-0577
Email: indelect@execpc.com
Catalog, Quote, Availability.
Distributors for
TYTON HELLERMANN CORP.

Identifying Products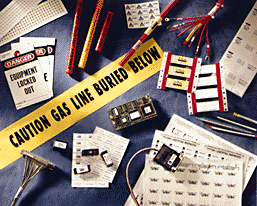 Tyton Hellermann offers a large selection of identification products for wire, cable and component marking. Windows and DOS based Tagprint labeling software, along with computer printable labels for dot matrix, laser and Tyton Hellermann's thermal transfer printers produce high quality text, numbers and bar codes. And with adhesive and non-adhesive markers in both blank and pre- printed styles, Tyton Hellermann can efficiently and economically meet most any industrial labeling need.
TAGPRINT LABELING SOFTWARE
Tyton Hellermann offers two versions of Tagprint labeling software for efficient, computer generated labeling. Tagprint for Windows and Tagprint II are both ideal for wire and cable marking, p.c. boards and components, terminal blocks and almost any industrial identification application.
Tagprint for Windows and Tagprint II are IBM compatible. Both versions of Tagprint can be used with dot matrix and laser printers, as well as Tyton Hellermann's thermal transfer printers.
Easy to use, Tyton Hellermann's software speeds production, while offering many labeling options. Bar coding, serialization, labels sets and text choices are just some of the capabilities of Tyton Hellermann's Tagprint software.
For a downloadable demo of Tagprint for Windows, see "Demo Software" on Tyton Hellermann's opening menu.
TABTAG COMPUTER PRINTABLE LABELS
The Tabtag computer printable label line us designed to bring label production "in-house" to help speed production, reduce errors and lower installation and assembly costs.
With the use of either Tagprint labeling softwares, a standard p.c. and dot matrix, laser or one of Tyton Hellermann's thermal transfer printers, labels can be printed on demand for J.I.T. (Just in Time) deliver for assembly and manufacturing. This reduces inventory costs, purchase minimums and the high cost of replacing labels due to errors and engineering changes. Tyton Hellermann makes it easy to design the label requirements needed for most any labeling application, regardless of the end-use application.
Self-Laminating Tabtags
These labels are manufactured with a clear, flexible vinyl film which overlaps the legend to provide permanent protection against moisture, chemicals and abrasion. Self-laminating Tabtags are most often used to identify round and flat ribbon cable.
Blank Tabtags
Blank-Tabtags are used for virtually any labeling application. They are ideally suited to flag wire and cable and to identify terminal blocks, printed circuit boards, EPROMS, and IC's. Tyton Hellermann's topcoatings are engineered to be ink receptive for long term identification. A variety of adhesives allow for a wide range of uses. Materials include plastic cloth, vinyl cloth, PVF film, vinyl film, polyester, paper, static free and more.
Both self-laminating and blank Tabtags are manufactured in a wide range of standard sizes and can be custom designed to meet specific requirements.
LASER TAG LABELS
Laser Tags are durable, laser printable labels for applications requiring clear, crisp legibility, including bar coding. The labels come on 8.5" x 11" sheets and are printable using either Tyton Hellermann Tagprint for Windows or Tagprint II labeling software and a standard laser printer. Specially designed adhesives and materials are used for Laser Tags, ensuring the labels will not curl, change color or jam laser printers. Available in self-laminating and blank styles, Tyton Hellermann Laser Tags accommodate a wide variety of labeling applications including wire and component marking.
THERMAL TRANSFER LABELING SYSTEMS
Tyton Hellermann offers thermal transfer labeling systems which print high density bar codes and text. Tyton Hellermann's self-laminating and blank thermal transfer labels are designed specifically for thermal transfer printers. Tyton Hellermann's TT1000 and TT10SM thermal transfer printers and Tagprint labeling software make clear, crisp bar codes, graphics and text while printing on a variety of label materials, including heat shrink tubing.
Thermal Transfer Labels
Tyton Hellermann provides several types of labels in a range of sizes and materials, for wire and component marking. Tyton Hellermann provides a combination of ribbon and material that produces a chemical and solvent resistant, non-smear mark that is clean and legible. Both self-laminating labels for use with wire and cable and blank polyester labels for component and product marking are featured with the thermal transfer systems.
Thermal Transfer Printers
The Tyton Hellermann TT1000 printer is a thermal transfer printing system designed for medium to high volume users of Tyton Hellermann thermal transfer labels and Shrink-Tags.
The TT10SM printer is a thermal transfer printing system designed for medium to low volume users of Tyton Hellermann thermal transfer labels and Shrink- Tags.
Both Tyton Hellermann thermal transfer printers are Listed by Underwriters Laboratories, meets C.S.A. and TUV-GS safety standards and FCC Class A and VDE Class B emission standards.
SHRINK-TAG MARKERS
The Shrink-Tag system is a heat shrink identification method which makes it easy to mark wire, cable, terminals and other components. After the Shrink-Tag is heated and shrunk, the imprint is permatized and solvent resistant.
For efficient marking, Shrink-Tags can be printed using either Tyton Hellermann's TT1000 or TT10SM thermal transfer printer. Shrink-Tags are also pin-fed for use with most 9 pin dot matrix printers. Tagprint software works with Shrink-Tag markers for a variety of marking options. Marks can also be made with a typewriter or pen.
Shrink-Tags are self-extinguishing and Recognized to U.L. standard 224 for print performance, heat shock and flammability. They are available in yellow or white, with or without perforations.
Tyton Hellermann also offers military specified versions of the Shrink-Tags, in both yellow and white, with or without perforations.
Shrink-Tags feature a 3 to 1 shrink ratio, which accommodates a large variety of wire diameters per Shrink-Tag size.
OTHER COMPUTER PRINTABLE LABELS
Tyton Hellermann offers other computer printable labels for wire and component marking. Flex-Tag markers are non-adhesive markers which slip onto wire and cable. Rip-Tags are non-adhesive markers installed with Tyton Hellermann cable ties. Termination hardware labels are used to mark AT&T 110 termination blocks.
TELECOMMUNICATIONS LABELS
Beyond the termination hardware labels, Tyton Hellermann offers patch panel label books, fiber optic cable markers, fiber optic cable tape and underground warning tape. Tyton Hellermann's labels also help meet TIA-606 standard for telecommunications labeling.
SAFETY SIGNS/WARNING LABELS
Lock-Out tags, warning signs and pipe markers in many different legend choices help companies efficiently meet OSHA and other safety standards.
RITE-ON MARKERS
Tyton Hellermann's Rite-On markers come with a reusable dispenser made from high impact plastic which is resistant to oils and grease. Available markers include different sizes of self-laminating labels, as well as pre-printed quality control labels with choices of text. The dispenser can be reloaded, making it a cost-effective and efficient method of labeling. Rite-on markers are packaged to work with point-of-purchase displays and can be purchased with its own counter/pegboard display.
OTHER MARKERS FROM TYTON HELLERMANN
Adhesive, pre-printed markers such as the Handi-Cards, Handi-Paks and Wire Marker Tape offer easy to use, convenient options in wire and cable labeling. Circuit breaker markers and alarm cards offer specific legends for panel marking. Clip-Tags and Ovalgrips are non-adhesive markers which slip over/around wire and cable. Identification marker plates are used in conjunction with Tyton Hellermann cable ties and can be marked with a pen or hot- stamped.



© 1997 Tyton Hellermann

---