Call:
414-327-1555
Fax : 414-327-0577
Email: indelect@execpc.com
Catalog, Quote, Availability.
Distributors for
TYTON HELLERMANN CORP.

Terminating and Connecting Products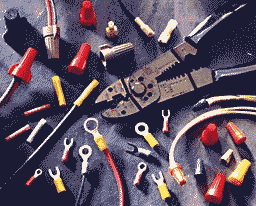 A variety of high quality rings, spades, splices, disconnects, couplers and connectors are available from Tyton Hellermann to be used for reliable terminations and connections. Most Tyton Hellermann terminals and connectors are U.L. Listed and C.S.A. Certified. Contact Tyton Hellermann for details.
TERMINALS
Non-Insulated Terminal
Available with a butted or brazed seam, the non-insulated terminal is economical and versatile. Its one piece construction contains a serrated inner barrel as well as a chamfered barrel end for fast, easy wire insertion. Tyton Hellermann's non-insulated terminals are constructed from pure annealed, electrolytic copper and are then electroplated with tin for the greatest corrosion resistance. The butted seam is bonded with a special brazing alloy to produce a brazed seam terminal. The brazed barrel can be crimped anywhere without splitting.
Nylon Insulated Terminal
This style features a tin-plated brass gripping sleeve which strengthens the barrel and secures the wire. This barrel is fitted with a funnel entry, color-coded nylon sleeve which extends beyond the metal support sleeve to offer excellent insulating qualities. The ultimate in rugged construction and high performance quality, Tyton Hellermann's nylon insulated terminals protect against stress and high vibration.
PVC Insulated Terminal
The PVC insulated terminal features an insulation sleeve of color coded polyvinyl chloride (PVC) permanently tapered to the barrel. It is molded as a funnel entry sleeve to eliminate wire strand hang-up, which in turn, increases crimping rates. The PVC insulated terminal offers excellent insulating qualities as well as protection against vibration damage.
Heat Shrink Terminal
Designed to insulate, seal, and protect joints from corrosion, physical abuse and abrasion, Tyton Hellermann heat shrink terminals have a color-coded, tough nylon sleeve which shrinks down to less than half its original diameter. Provided with a funnel entry opening, the sleeve contains a hot-melt adhesive liner for impermeable moisture barrier. The seamless barrels will not open under stress or wire pull. Small and light, Tyton Hellermann heat shrink terminals resist abrasion and cutting and provide a long lasting and moisture proof connection which withstands water, salt, condensation, corrosion and heat.
CONNECTORS
Color-Coded Connector
Manufactured from a flame retardant, thermoplastic material, these color- coded connectors will not crack or break even when applied to maximum wire combinations. The durable shell is ridged to ensure a firm grip. The wide passage eases insertion while the tight, no-slip square wire spring immediately threads wire and creates a secure, pressure grip.
Wing Grip Color-Coded Connectors
The contoured wing grips are designed for easy installation and removal without tools. Molded from a flame retardant, crack resistant, thermoplastic material, the color-coded, wing grip connector ensures long life. The expandable square wire spring instantly adjusts to the wire size and shape, providing a secure grip and excellent vibration resistance.
All Plastic OEM
The all plastic connectors are specifically designed for production line personnel to install with hand or tool. Manufactured from a melamine/urea plastic, the color-coded connectors resist cracking and are oil, chemical, and vibration resistant.
Ty-Tap
The Ty-Tap produces pre-insulated splices without stripping, twisting or soldering the wire. No special tools are needed. The color-coded housing is constructed of polypropylene and the piercing barb is 86% copper zinc alloy. The Ty-Tap can produce a tap, pigtail, parallel or in-line splice.
Tyton Hellermann offers many choices in terminating and connecting. Rings, spades, parallel and butt splice connectors, male and female quick disconnects, couplers, blades and more are available. Contact Tyton Hellermann for details.
CRIMPING TOOLS
CT1 Tool
The multi-purpose hand tool that crimps, cuts and strips wire. This tool features two wire cutters, five common size bolt cutters, two wire looping slots, four crimping dies, and precision ground scissor action wire strippers for clean, easy stripping of 22 through 10 AWG.
RT Series Tool
The RT series full cycle ratchet tools are available for reliable positive crimping. The tool jaws will not open until the crimp is complete. Specify the type terminal to be installed for appropriate tool.
TERMINAL ASSORTMENT KIT
The terminal assortment kit comes with a choice of terminals in a metal box. The CT1 multi-purpose hand tools also comes with the kit.



© 1997 Tyton Hellermann

---