Call:
414-327-1555
Fax : 414-327-0577
Email: indelect@execpc.com
Catalog, Quote, Availability.
Distributors for
TYTON HELLERMANN CORP.

Clamping Products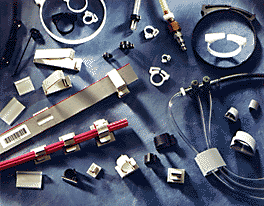 Used for securing wire, cable and hoses, Tyton Hellermann's plastic clamps offer reliability and ease of use. Tyton Hellermann clamps are easier to install and lighter in weight than metal clamps, providing many alternatives and solutions for clamping applications.
Adhesive Cable Clamps
Both extruded and injection molded, Tyton Hellermann's adhesive cable clamps handle both wire/cable bundles and flat, ribbon cable.
T Clamps/NX Clamps
T Series clamps are injection molded and designed for applications in electronics, automotive, aircraft and appliance industries. All contact edges have a full radius for product protection and sizes are clearly marked on each clamp. White nylon 6/6 is standard material. Black nylon 6/6 and polypropylene are available based on minimum volume requirements.
NX Series clamps are injection molded and designed for locating wires, cables, and components in instruments, appliances and electrical apparatus. These clamps are used for both internal and external installations. Each clamp is embossed with the reference number and size. The inside edges are radiused to prevent cutting into cable insulation. Adjustable NX clamps feature a molded-in, non-slip tongue for accurate alignment. Standard material is black nylon 6/6.
SNAPPER HOSE CLAMPS
Tyton Hellermann's Snapper is a lightweight, corrosion resistant hose clamp manufactured from high performance, thermoplastic materials selected to work well in a variety of diverse environments.
A quick ratchet closure provides for reduced assembly time and allows for application after connection of the hose. Release is achieved by initiating opposed lateral movement of the ratchet ends.
Heat stabilized materials are available for high temperature, motor and underhood applications. Snappers are also stable in a wide variety of chemicals, including salts, bases, alcohols, ethers, detergents, gasoline, lubricating oils and greases.
The Snapper is available in 34 standard sizes ranging from 1/4" to 4-1/2" ID and a variety of non-round shapes especially designed for specific applications. Snappers are manufactured in white and black. Custom designed and different colored Snappers are available based on application and volume requirements. Standard materials are acetal and heat/UV stabilized glass filled high impact modified nylon 6/6.
Snapper Kit
The Snapper engineering kit consists of 146 Snappers in a variety of sizes. Both black and white colored Snappers are included, although one color can be requested. Conveniently packaged in a plastic box, the kit is an organized, versatile way to store and use Snapper hose clamps.
Snapper Tools
Snapper installation tools can be custom designed to meet specific requirements. Pneumatic tools are available on a lease basis. Service kits are also available.



© 1997 Tyton Hellermann

---