Call:
414-327-1555
Fax : 414-327-0577
Email: indelect@execpc.com
Catalog, Quote, Availability.
Distributors for
SL WABER
---


Bringing You What You Need On Time, On Target, On Budget
Meeting time, cost, and specification requirements is our primary goal at SL Waber. SL Waber offers a full range of cutting edge technologies and on time delivery. Customers know they can rely on SL Waber's Custom Products Group to provide solutions to their unique challenges, with innovative and cost efficient custom power protection products. Product is developed with direct customer input. SL Waber's products are tailored made to a customer's specific workplace environment, and incorporate the right materials, voltage ratings and other custom specifications. This includes specialized monitoring features, multiple mounting methods, plastic, aluminum and steel fabrications, and even customized colors and printing. Prototypes, CAD drawings and three-dimensional renderings are available for custom applications, and each product is guaranteed to meet the standards of appropriate national and international safety and regulatory agencies.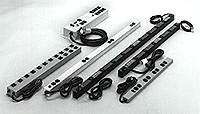 Clipstrip® Extruded Aluminum Series
Shallow, extruded aluminum housings in lengths up to 8 feet. Designed for enclosures and rack systems, they feature universal spring steel mounting clips to hold the power strip securely in place. Rated up to 20A, 125/250VAC and offer circuit breaker protection and optional surge suppression and EMI/RFI filtering.
Custom Design Power Distribution Units
The new "PDU" power distribution units convert a 30A input into two NEMA 5-15 branch-circuits. Approved by UL as heavy duty high power distribution boxes, they are rated up to 250VAC. They are offered in several lengths and widths with circuit breaker protection for domestic and international applications. Surge suppression and EMI/RFI filtering is available.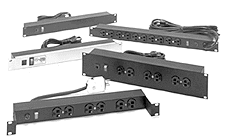 Rack Mount Series
Industrial outlet strips designed to mount horizontally inside enclosures or rack systems. Designed to meet EIA standrads, they have fabricated steel construction and they are offered in 19 to 24 inch lengths in black textured finish or color matched paint. Rated up to 20A and 250VAC with circuit breaker protection. Surge suppression and EMI/RFI filtering is available.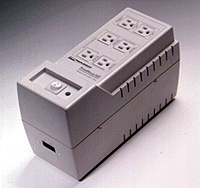 PowerHouse®
Instant battery backup power for typical computer network stations and stand-alone systems, plus advanced surge protection. Advanced circuitry is incorporated to insure maximum protection from power surges and spikes. Built-in microprocessor-controlled backup provides greater efficiency and accuracy in AC sine-wave simulation, keeps computers running during power outages (up to 15 minutes half load and 5 minutes full load), monitors battery performance, controls the Auto Diagnostic Indicators including LED status and provides RFI noise protection.
The newest models, PH280T and PH580T feature advanced solid-state modem line protection (RJ11 jacks) with fast clamping circuitry, providing over 700 times the endurance of common gas tubes. All 4 models feature an ergonomically designed console with an easily accessible ON/OFF switch, a 6 foot power cord and Connected Equipment Guarantee. Rated 120V, 12A, UL 1449 and 1778. and available in four sizes.

UPSTART™
The Ultimate UPS! A 5-in-1 Uninterruptible Power Center with included exclusive Save-and-Restore software. Provides ideal protection for your computer, its peripherals and your data. This exciting product combines up to 5 minutes of battery backup, advanced surge and noise suppression, solid-state modem protection and software that automatically saves data, shuts down the system and automatically restores data when power returns--all in a sleek, under-monitor design.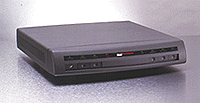 Exclusive software automamtically saves and restores all open files and shuts down system
Up to 5 minutes of backup power
Power Center convenience with master switch
Status LEDs, audible alarm indicate protection status at all times
Transformer spaced outlets




© 1997 SL Waber
520 Fellowship Road, Suite 306C
Mt. Laurel, NJ 08054
Tel. (609) 866-8888 • Fax. (609) 222-5547

---