Call:
414-327-1555
Fax : 414-327-0577
Email: indelect@execpc.com
Catalog, Quote, Availability.
Distributors for
SL WABER
---
Plug Into The Future
Multiple Outlet Strips
A complete line of industrial electrical outlet strips to meet every job application. All industrial models are housed in durable steel casings with an attractive baked-on finish; are UL Listed on recognized componets; are generally rated 15A/125V, 60Hz, 1875 watts, continuous duty and are 100% factory tested. Most models have pilot lights and on/off switches in various combinations to give you power control flexibility. Our plug-in models come with either a 6 ft. or 15-foot power cord. Several units have knockouts and leads so you can wire-nut for permanent installation. All models have "U" ground outlets and a grounded case. Many come equipped with circuit breakers and are covered by one or more US Patents . UL, CSA approvals.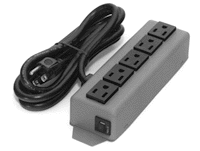 Compact Series - For applications where there are space contraints and size is important. Offered with 3 to 5 outlets.


Midlength Series - Popular models have provided industry, offices, schools and labs with a standard of excellence unparalleled in multiple outlet strips. The 90° design is ideal for right angle plugs and spaced to accept transformers. The 20A rated design is for applications requiring more than 15A.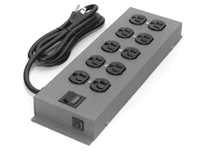 Deluxe Series - Provide a number of grounded outlets in a small area. All models have circuit breaker protection and master switch with built-in pilot light. Ideal when individually switched outlets are required.


Premier Series - Features a lower profile contoured shape. The color coordinated components are perfect for areas where aesthetics are important. Applications include offices, workstations, laboratories, computer equipment, store displays and more.


Trimline Series - Rugged, versatile, multi-length strips provide real convenience. Widely used in racks and on workbenches, production lines and lab tables. No wiring to do, just plug them in!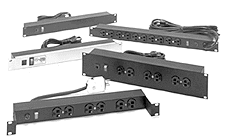 Rack Mount Series - The greatest convenience item and time-saver ever conceived for racks, enclosures, desks and cabinets. Instant power distribution from front, back or a combination of both.


Permanent Installation Series - Installation is quick and easy. Ample room is provided inside the unit for greater ease in wiring and installation. Additional insulated wires can be run through the case. Outlets are pre-wired with leads included for quick wire nutting to your entry cable. Knockouts for 1/2" connectors are provided on both ends of the case assembly.
---
Surge and Noise Suppressors

Why Surge Protection?
Power company load switching, elevators, air conditioners, and of course, lightning can all have a devastating impact on computers, fax machines, and other electronic office equipment. These electrical circuit transients, surges, spikes, etc. should be controlled since they are usually associated with premature failure or malfunctions of electrical and electronic components and systems. SL Waber surge protection products offer solutions to meet your needs.
A surge suppressor may contain various electronic components, all of which absorb and dissipate electrical energy so that harmful elevated power levels and transients never reach your connected electronic equipment. Your choice of protection device should depend on the type of equipment needing protection and the level of protection desired. How valuable is the equipment? With computers, what is the additional value of the data and downtime? Does your PC have a modem? SL Waber's line of surge suppression and power protection devices provide the industry's highest levels of surge protection. In addition, SL Waber's surge supressors come with product warranties and most even carry Connected Equipment Guarantees.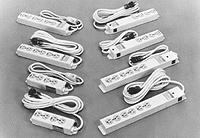 Medical Series - Manufactured exclusviely for use in hospitals, nursing homes, clean rooms, and labs. All models offer superior voltage breakdown, ground integrity and low leakage current.



PowerMaster® Series - Surge and RFI protection for TVs, VCRs, steros, microwave ovens, computers and other sensitive electronic equipment from voltage surges and electromagnetic interference, UL 1449. Offered in strips and wall taps with one to six insulated outlets. Strips have 6-foot power cords and a Connected Equipment Guarantee.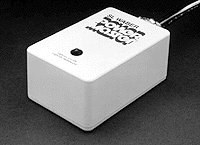 PowerMaster® Whole House Surge Arrester - Protects household, electrical, and electronic equipment from transient voltage surges which can enter via the main power supply line. Designed to be "hardwired" into house circuitry and mount easily on the circuit breaker panel box. Engineered to absorb a maximum surge current of 32,000A. Clamping response time is typically less than one nsec. UL Listed.
---

Industrial DataGard® Series - Surge and RFI protection for TVs, VCRs, Sterors, microwave ovens, computers and other sensitive electronic equipment from voltage surges and electromagnetic interference. Offered in strips and wall taps with one to six insulated outlets. Strips have 6 foot power cords and carry a Connected Equipment Guarantee. UL 1449.

20 AMP Series - Designed to protect 20 A heavy-duty office equipment.


Industrial Grade - Designed for large office and industrial applications - especially where noise is a critical factor.



Office Grade - Designed to protect computers, POS terminals, sensitive instrumentation and other electronic equipment containing sensitive microprocessors.

Telecommunication Grade - Protect sensitive electronic communications equipment such as modems, facsimile and answering machines, electronic telephone systems, computers.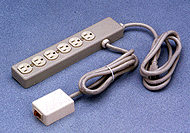 Economical Grade - Designed for general office equipment such as typewriters, word processors and calculators.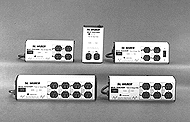 Wave Tracker Series - 3-stage surge protection (gas tube, avalance diode, MOV) which provides a superior technology over surge protectors utilizing only MOVs. Feature sine-wave tracking for reduction of spike magnitude. Achieve UL1449 best rating of 330V (actual test results are lower). Includes RFI protection. Applications include CAD stations, telecommunications equipment, multimedia systems, or anywhere noisy power is a problem. Aluminum housing, rated 15A, 125VAC, 60Hz, 1875W, UL, CSA listed.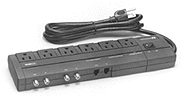 Digital Satellite System Series - Surge and RFI suppressors designed specifically to protect expensive entertainment systems and satellite equipment. Three models include DSSI with voice/phone protection (RJ11 jacks), DSS2 has one set of phone jacks and two set of coax connectors; DSS3 has one set of phone jacks and two sets of coax connectors. Applications include home theater systems, small dish satellite systems, IRD systems, two-way satellite communications systems, cable television and future super highway systems, UL, CSA, IEE.
---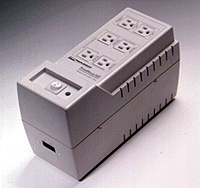 Uninterruptible Power Supplies (UPSs)
PowerHouse®
The PowerHouse® UPS provides the most technologically advanced backup features to protect computers and data from damage and loss. For home computer users, home offices, small businesses and even corporate workstations, PowerHouse keeps computer systems running during power outages, so you can complete necessary tasks, then save and shutdown safely. Instant battery backup power for typical computer network stations and stand-along systems, plus advanced surge protection. Advanced circuitry is incorporated to insure maximum protection from power surges and spikes. Built-in microprocessor-controlled backup provides greater efficiency and accuracy in AC sine-wave simulation, keeps computers running during power outages (up to 15 minutes half load and 5 minutes full load), monitors battery performance, controls the Auto Diagnostic Indicators including LED status and provides RFI noise protection. The newest models, PH280T and PH550T, feature advanced solid-state modem line protection with fast clamping circuitry, providing over 700 times the endurance of common gas tubes. All 4 models feature an ergonomically designed console with an easily accessible ON/OFF switch, a 6 foot power cord and Connected Equipment Guarantee. Rated 120V, 12A and available in four sizes: 250VA, 280VA, 500VA and 550VA. UL 1449 and 1778.
PH550T - Ideal for network stations and stand-alone computer systems with modems. 550VA/340W, RJ11 phone line connection, 4 full-time back-up protected outlets and 2 surge-only protected outlets, 450 joules.
PH500 - Same as PH550T without modem line protection. 500VA/340W.
PH280T - Ideal for stand-alone computer systems with modems. 280VA/170W, RJ11 phone line connection, 2 full-time back-up protected outlets and 2 surge only protected outlets, 450 joules.
PH250 - Same as PH280T without modem protection. 250VA/170W.
UPSTART™
The Ultimate UPS! A 5-in-1 Uninterruptible Power Center with included exclusive Save-and-Restore Software. Provides ideal protection for your computer, its peripherals and your data. Upstart combines up to 5 minutes of battery backup, advanced surge protection for your computer, its peripherals and your data. This exciting product combines up to 5 minutes of battery backup, advanced surge and noise suppression, solid-state modem protection and software that automatically saves data, shuts down the system and automatically restores data when power returns -- all in a sleek, under-monitor design.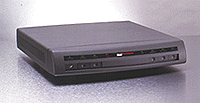 Exclusive software automatically saves and restores all open files and shuts down system.
Up to 5 minutes of backup power
Power Center convenience with master switch
Status LEDs, audible alarm indicate protection status at all times
Transformer spaced outlets
UPSTART NETWORK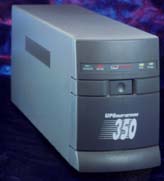 The Only Battery Backup with Save-And-Restore Software (SRS)UPSTART NETWORK, designed for network workstations and personal computers, combines all of a network workstation's power protection needs in one package: 15 to 30 minutes battery backup power, advanced DataGard™ surge suppression circuitry to prevent surges and spikes from damaging computer, modem and peripherals, solid state modem protection with internet-ready jacks; and SAVE YOUR JOB software. UPSTART NETWORK is the only network-compatible uninterruptible power supply that includes Save-and-Restore (SRS) that automatically saves work and shuts down the computer system, then reboots and restores all files, unattended! Saves any job (document, spreadsheet, chart, etc.) LAN and WAN compatible, UPSTART NETWORK prevents network crashes and save individual workstation data.

Power Conditioners
Clean up your power problems and optimize your system's performance and reliability with SL Waber's Power Conditioners. They feature both undervoltage and overvoltage regulation and range from 300VA to 2400VA. Each of the 5 models filter out unwanted noise and utilize our patented 3-stage surge suppression design consisting of gas tube, avalance diode, and MOVs all providing protection against surges. All power conditioners feature visual surge indication, 6 foot power cord, steel housings, ON/OFF switches and a product warranty. Applications include computers, instrumentation, medical/laboratory and industrial equipment.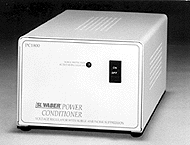 General Specifications:
Output regulation: +5 to 8%
Operation frequency: 60Hz (100KHz to 100 MHz)
Noise attenuation: up to 60dB
Maximum surge voltage: 6000V
UL 1449 rating: 330V
CordGard® Electrical Cord Ducting
Over the floor ducting provides a quick, inexpensive and attractive way to cover hazardous and ugly electrical wires. Made of durable utility grade vinyl. Ideal for offices, factories, retail stores and laboratories. Available in 6 ft., 15 ft. and 50 ft. lengths with ribbed slots on the bottom to prevent sliding and includes double-faced tape for adhesion. The center hole diameter accommodates electrical or telephone cords with diameter equivalent to 14/3 SJT or less. Colors: beige or brown.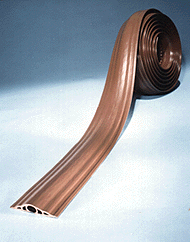 © 1997 SL Waber
520 Fellowship Road, Suite 306C
Mt. Laurel, NJ 08054
Tel. (609) 866-8888 • Fax. (609) 222-5547

---