Call:
414-327-1555
Fax : 414-327-0577
Email: indelect@execpc.com
Catalog, Quote, Availability.
Distributors for
WELLER CORDLESS SOLDERING TOOLS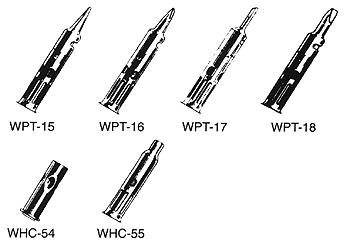 Tips for cordless soldering tools WPT and WHC series tips for WST2 Pyropen® Jr irons.
"Longlife" tips last 10 times longer than conventional tips
4 soldering tip combinations available
2 inactive hot air nozzles for low temp heat
IMPORTANT: Use only Weller soldering tips. Use of non-Weller components may void product warranty if the non-Weller component causes damage to the unit.

Cat.     UPC                           
No.      No.           Description     

WPT-15   037103477521  0.5mm tapered needle tip
WPT-16   037103477538  3.0mm Chisel point tip
WPT-17   037103477545  3mm Spade point tip
WPT-18   037103590831  Stained glass tip
WHC-54   037103477552  1.5mm Hot air tip
WHC-55   037103477569  4.9mm Hot air tip



© 1996 Cooper Industries Inc.
---