Call:
414-327-1555
Fax : 414-327-0577
Email: indelect@execpc.com
Catalog, Quote, Availability.
Distributors for
The Mallory Sonalert®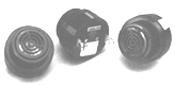 Introduction


The Mallory Sonalert® produces an audible tone by internally creating an oscillating signal which drives a piezo ceramic transducer mounted in a sound chamber. Various types of continuous and intermittant tones are available from the Mallory Sonalert® product line.

Self driven piezo ceramic transducers are superior to electromagnetic buzzers because they produce no arcing, electrical noise, or mechanical wear during operation. They are more reliable and operate more consistently during their operating life and are able to produce many more types of tones compared to buzzers.

The Mallory Sonalert® can be actuated by AC and DC power signals and has several mounting configurations and terminations available.



---
Sonalert® Audible Signal Devices
Short Index
Sonalert® Audible Signal Devices (Commercial and Industrial)

Mounting          +/-500 Hz   Voltage     Loudness           Current

Series: SC        Continuous, Pulse, Dual Mode, Chime, Chirp, Warble, Siren
Classic Panel     1900 Hz     1 - 250 V   Loud: 80 - 95 dB   1 - 28 mA
(Screw Neck)      2900 Hz     AC & DC     Med:  65 - 80 dB  
                  4500 Hz                 Soft: 50 - 65 dB  

Series: SBM       Continuous, Pulse, Dual Mode
Printed           2900 Hz     1 - 28 VDC  Med: 55 - 78dB     3 - 16 mA
Circuit Board 

Series: SNP       Continuous, Pulse
Panel             2900 Hz     4 - 28 VDC  Med: 55 - 76 dB    3 - 18 mA     
(Snap in)

---
Sonalert® Multi-Tone

Series: SC        WY=3 Mode, WXY=5 Mode

Mounting          +/-500 Hz  Voltage     Loudness           Current
Classic Panel     1750 Hz    6 - 16 VDC  Med:  60 - 72 dB   2 - 27 mA 
(Screw Neck)      3000 Hz                                          

---
Sonalert® for Military Applications

Series: SC        Continuous, Pulse, Dual Mode, Warble

Mounting          +/-500 Hz  Voltage     Loudness           Current
Classic Panel     1900 Hz    6 - 250 V   Loud: 80 - 90 dB   3 - 18 mA
(Screw Neck)      2900 Hz     AC & DC    Med:  68 - 80 dB    
                  4500 Hz 

---
Sonalert IItm

Series MSR and MSO      Continuous

Mounting         +/-500 Hz   Voltage     Loudness           Current
Printed          3000 Hz(MSR)3 - 20 VDC   Med:  55 - 74 dB  3 - 20 mA 
Circuit Board    3150 Hz(MSO)
(15 mm Pitch)

---
Piezoelectric Transducer Units

Series: PT       Continuous

Mounting         +/-500 Hz   Voltage     Loudness           Current
Printed Circuit  Various     30 V. Max   Medium             Requires Drive
& Flange                                                    Circuitry

---
Sonalert® Accessories

SCMB -- Electrical Mounting Box
SCVC -- ManualVolumeControl
BNR1 -- Anodized Black Aluminum Mounting Ring (Standard on Military units)
CNR1 -- Anodized ClearAluminum Mounting Ring
PNR1 -- Black Plastic (Nylon 6/6) Mounting Ring (Standard on Commercial 
        and Industrial units)



© 2007 NACC
---