Introduction


At Mag-Lite® we believe the spirit and character of a company is most clearly defined and expressed in its founder, owner and president Tony Maglica. Each flashlight (77k gif) is a result of his obsession with fine engineering and craftsmanship. Each one, a commitment to perfection. An experimental machinist by training and a manufacturing innovator by practice, Mr. Maglica's vision has resulted in growth from one worker in 1955 to more than 400 dedicated employees today. But his work does not stop there. Today, Mr. Maglica continues his commitment to not just settle for greatness, but to improve upon it. And that can only be accomplished by personally overseeing every aspect of the product that bears his name.


---
Mag-Lite® Features
Our exclusive cam-driven beam changes from spot to flood with a turn of the head to give you a perfectly focused beam at any distance.
A patented, selfcleaning switch virtually eliminates the oxidation that accumulates in other flashlights. The result is an extremely reliable switch.
Unlike other companies, we take the extra step to plate our contacts with the finest metals to enhance conductivity, reduce oxidation, and increase durability.
Every reflector is computer-designed to work with a specific lamp and power supply to achieve maximum brilliance and efficiency.
A superior quality White Star® krypton lamp delivers exceptional performance. A second White Star® krypton lamp is included in the tail cap.
Our high-grade rubber O-rings at each opening ensure a Mag-Lite® is exceedingly resistant to water and simply steadfast in its ability to withstand shock.
An anodized finish inside and out offers optimum corrosion resistance and reduces the possibility of battery damage to the body.
Our lower resistance circuitry allows a more efficient use of the batteries. In fact, batteries that have burned out in other flashlights will continue to power a Mag-Lite® .
Of course, every Mag-Lite® flashlight is designed and manufactured in the U.S.A.
---
Mini Mag-Lite® AA
Red, Gold, Blue, Camo, Black (20K gif)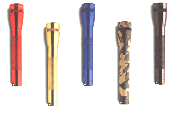 If we may be so bold, this is the flashlight that changed the industry forever. Until we introduced the Mini Mag-Lite® no one had ever dreamed a flashlight could be so small, yet so powerful.

We include a spare lamp safely secured beneath the spring in the tailcap of every Mini Mag-Lite® to ensure your flashlight will never leave you in the dark. And as with every Mag-Lite® flashlight, we seal each end with the highest-quality rubber O-rings for superior water and shock resistance.

---
Mini Mag-Lite® Candle
Candle Mode (85k gif)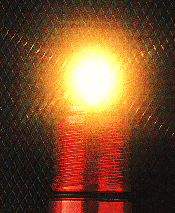 At the right is the patented Mini Mag-Lite® candle mode feature for convenient, hands-free light whenever you need it. In addition, a fast-focus beam adjusts from spot to flood with a turn of the head. Our patented, self-cleaning switch elimenates oxidation. And the exceptionally durable body is machined to exacting tolerances from the finest aircraft aluminum. Every Mini Mag-Lite® comes with Energizer® Alkaline batteries and is available in a convenient Hang Pack or gift style Presentation Box. Also available is the AA Combo Pack with anti-roll device, pocket clip, lanyard, and red, clear and amber lenses. And the AA Holster Pack with a durable multi-purpose woven fabric belt holster.

---
Mini Mag-Lite® AAA Keychain
Keychain (28k gif)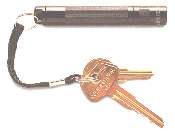 Don't let its size deceive you. All the features that make the Mini Mag-Lite® AA flashlight a marvel of engineering can be found in our AAA version as well. Equally impressive is the fact that the Mini Mag-Lite® AAA has a beam equal to that of many larger flashlights.

Presentation Packs, Hang Packs and Keychain versions are available. Comes in most colors.

---
Mag-Lite® Traffic Wands / Accessories
Traffic Wand - White, Yellow, Red (38k gif)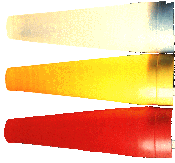 Mag-Lite® Traffic Wands fit the standard size Mag-Lite® and are high visibility for use where and when it counts. Available in White, Yellow and Red.

Our Mag-Lite® lamps deliver superior performance and efficiency. In our Mag Charger® System a powerful halogen lamp is used to maximize brightness and battery life. Our Mag-Lite® C and D Cell flashlights come with high-quality White Star® Krypton lamps. Also available are premium Mag-num Star® krypton and Mag-Lite® argon lamps.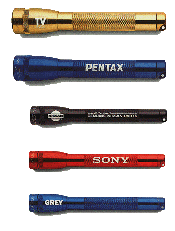 There's more!
A variety of belt holsters in rugged nylon and top-grade leather.
Clear and Colored lens.
Mounting brackets.
Premiums and Incentives (74K gif)
Only the finest accessories earn the right to bear the Mag-Lite® name.