Distributors for FLUKE METERS CLAMPS AND ACCESSORIES
Call: 414-327-1555

Fax : 414-327-0577
Email: indelect@execpc.com
Catalog, Quote, Availability.

Accessories
Fluke Fiber Optic Meter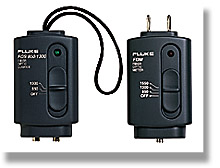 Test Fiber Optic Cable with Your Digital Multimeter
The Fluke Fiber Optic Meter (FOM) helps you test and maintain fiber optic cable without having to buy a whole new meter. Plug the FOM directly into any DMM with a mV dc function and a 10 MOhms input impedance, such as the Fluke 87 and quickly and accurately verify fiber optic cable system loss. Light sources and patch cords sold separately.
The compact FOM plugs into your DMM and makes testing in tight spaces easy
A variety of light sources (FOS 850, FOS 1300, and FOS 850/1300) and patch cords (ST to ST, ST to FC, ST to SC, ST to SMA) let you get just what you need for testing different cable types and lengths
Highly accurate readings mean less work, less repeated testing
Input connector: fixed ST
Battery life: 16 hours minimum, 9V alkaline
LED low battery indicator
Operating temperature: 0ºC to +40ºC (32ºF to +104ºF)
Storage temperature: -20ºC to +70ºC (-4ºF to +158ºF)

More Info...
© 2007 Fluke
Industrial Electronics By Ross LLC